Ken Rand and his KR-1, second place overall in the 1973 Pazmany Efficiency Contest.
---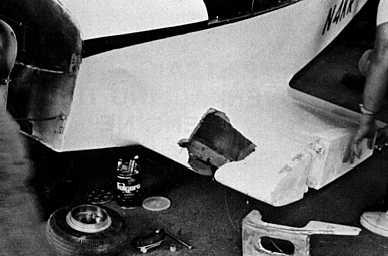 Damage suffered at Oshkosh '74 to Ken Rand's new two place KR-2
Field repair to the KR-2's damaged wing. Foam was glued in to fill the hole seen in picture above and the epoxy impregnated Dynel cloth is being bonded on in this picture. The plane was flying the next day.
---

George Andrews, Oshkosh 1975
---
KEN RAND ACCIDENT, October 1976
Ken Rand of KR-1 and KR-2 fame is back at work after a serious accident that occurred during the filming of a show entitled "The Drone" for the new TV series Spencer's Pilots. Ken's prototype KR-1 was fitted with a large fake antenna and had the outside of the canopy painted white and the inside painted black -- with just a small slit left for vision. Ken, himself, was fitted with a black hood and dark glasses just in case the camera chanced to shoot through the small slit. During a high speed pass at low altitude a bad vibration suddenly occurred which was thought by Ken to be a prop failure. He shut down and set up an approach to a small, rough strip that had been bulldozed out for the filming operations -- and clipped a tree on the way down. The aircraft was rolled up in a ball but Ken survived, coming out with a concussion, back injury and a broken collar-bone. A post crash investigation revealed no engine or prop failure and it is now believed that the fake antenna was the source of the vibration.
Since the filming was not complete at the time of the accident, all the scenes involving the KR-1 had to be shelved -- presumably including the crash, itself.
---

Jim McCoy, Oshkosh 1977
---
Chino 1978

Best Composite Construction, Chino 1978
Ken Rand showed up with a couple of new things - flaps on his KR-2 and an almost completed Super KR1. He told me the flaps came about as a result of his getting his Commercial license. He found he had to have a specified amount of "high performance" time logged -- "high performance" being defined as an aircraft with a constant speed propeller, retractable gear and flaps. Since he qualified on the first two counts with the KR-2, he decided to go for three by sawing off the center section trailing edge and installing slotted flaps. I don't know if he will meet the horsepower requirements for "high performance", but Ken says the flaps work fine and improve the flight characteristics of the KR-2, in any case. They allow steeper approaches and cut down on float in ground effect. Ken says he particularly enjoys being able to carry a touch of power on final, if needed -- something that would have sailed the clean little bird into the next county before flaps were installed.
Ken had his nearly rebuilt KR-1 trailered in for static display. This airplane has been "born again" more times than a back sliding Baptist. Several years ago it was strained through a barb wire fence at Flabob and after rebuild was the bird Ken rolled up in a ball during the filming of an episode of Spencer's Pilots. It's latest reincarnation should really be something -- a big turbo-charged Revmaster, Maloof constant speed propeller and a much improved cowling. Ken says that if Nick Jones holds his efficiency race during Oshkosh this year, he is going to be tough to beat!
I was also told the long-awaited long wing KR-1 is ready to fly. We'll have details on that later.
Ken had a lot of company this year at Chino -- a number of really sharp KR-ls and 2s. One of them, Frank Walker's KR-1, was awarded the Best Composite Construction trophy over some really stiff competition. It was unique in that it had a fixed spring leaf main gear and an open cockpit. Really a nice little bird.
---
Chino 1979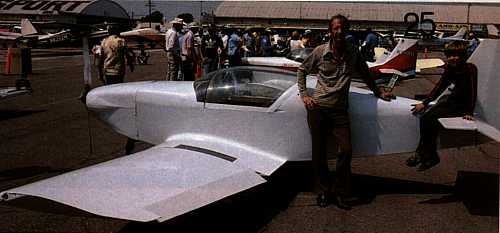 Don Land, 908 Manzanlta St., Los Angeles, CA 90029 and his highly modified tri gear KR-2. Son Don, Jr. sits on the horizontal tail to demonstrate it's strength. The tail surfaces and wing panels were made from foam and Kevlar, rather that, the usual Dynel. The tri-gear consists of welded up gear legs incorporated rubber donuts in compression to absorb shocks. It is retracted with one of Molt Taylor's air cylinders -- built from the drawing that appeared in the May 1978 Issue of SPORT AVIATION (page 62). Weight is slightly less than the standard Rand gear, according to Don. In fact, the entire airplane weighs only about 500 pounds. KR-2 canopies are double ended affairs as they come out of the mold and are cut Into two halves. Don cut his canopy out of the center of one ot these bubbles so as to have a sleeker job, but with the same amount of headroom. Note that the windshield is fixed. The craft is powered by a turbo charged Revmaster and a Maloof variable pitch propeller. Fuel capacity is 90 gallons (!) -- 35 in each wing and 20 gallons in the fuselage tank. Potential range is around 3000 miles!
---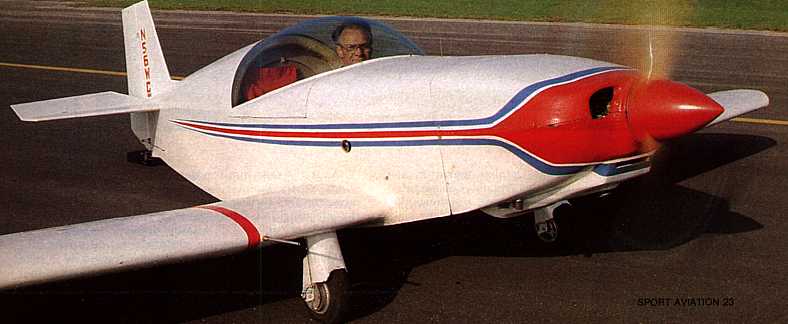 William Churchman's KR-2 at Oshkosh '81
---
The KR-3 loaded on a trailer.
---
Jennifer Evans set me this photo of her father's plane. He and a passenger were killed after striking a power line in 1984.