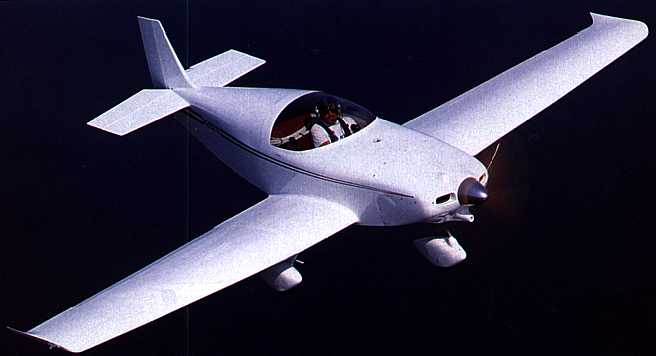 Tom Crawford's KR-2
by Jack Cox
aerial photos by Ken Lichtenberg
ground photos by Arnold Greenwell
With six or seven hundred different homebuilt designs available to builders these days, it is always interesting to learn why a particular one was chosen. For Tom Crawford (EAA 515198) of Alachua, FL, his KR-2 trigear was simply a good match with some of his past experience.
"I thought at the time that it was probably the best bang for the buck. Fairly simple construction, low cost kit, fairly high cruise speeds -- something I thought I could probably do on my own. I had done some fiberglass work on boats and had done wood work, so I was pretty comfortable with the construction techniques invo in building a KR-2."
The fact that the airplane was powered with a VW engine appealed him because he had worked on them during his college days and felt confident tearing them apart and putting them back together again.
"I was just a typical poor college kid driving a Bug. They break and you fix them if you want to continue driving."
A native of Peoria, IL, Tom virtually grew up on a small airport in nearby Manito. His stepfather was a flight instructor and general manager of the operation.
"I was the usual airport kid, but I just didn't get around to getting my license until a few years ago."
Peoria's economy has long been dominated by Caterpillar and most people have grown up there assuming they would work for the huge earth moving equipment company. However, when Tom graduated from high school in 1979, Caterpillar was embroiled in labor problems and layoffs, so employment with the company was out of the question.
"I just needed a job, so I decided to get into a profession that would always be in demand and would allow me to live wherever I wanted. I chose nursing and got my associate degree at Illinois Central College. I worked in intensive care units for a long time, but for the last few years I have been in the emergency room. I really like emergency room and its a job that will always be there for you."
Tom moved to Florida soon after college, was married and moved around quite a bit before finally settling in the Gainesville area. During most of this period, sailboats were his hobby and he spent a lot of time both sailing and working on them.
The mid-1990s turned out to be a very busy period for Tom. He and his wife, Linda, became parents, they bought and moved into a new home, Tom began taking flying lessons ... and he began building his KR-2. Looking over his options, he had decided to build the tri gear version of the airplane, with Dan Diehl wing skins and composite landing gear. He ordered Rand Robinson's premolded fuselage parts, metal fittings and, of course, the plans and set to work. Even with all he had going on in his life, he completed the airplane in 1,800 hours of construction time - over a period of 22 months.
The engine Tom chose to modify for use in his KR-2 was a two liter Type 4 that began its existence powering a Volkswagen bus. He installed bigger pistons to boost the displacement to 2400 cc and chose to fire one set of plugs with a magneto and the other with an electronic ignition. Otherwise, he says, the engine is basically stock.
The airframe was built closely to the Rand Robinson plans. The one major alteration was making the fuselage tank and the top deck over it removable. This also provided easy access to the back of his instrument panel, the rudder pedals and brake cylinders. He also used a boat hatch strut to hold his canopy open. Cleveland wheels and brakes were used and his wheel pants are stock Rand Robinson options.
The project was Tom's first attempt at finishing a fiberglass structure. He used a PPG primer to build up the finish and painted the airframe in white Imron, but to his dismay, the shine of the polyurethane paint just highlighted the fact that the surface was not as flat as he wanted it to be. It took a lot of wet sanding and buffing, he says, but he finally achieved the finish he was after.
When completed, Tom's KR-2 was found to have an empty weight of 638 pounds. A few more pounds were added when the wheel pants and upholstery were added but he still made his target of 650 pounds or less. If built correctly, Rand Robinson says the KR-2 is a six G airplane at a gross weight of 900 pounds and a five G airplane at 1,050 pounds. Tom uses the five G criteria and keeps his take-off weight below 1,000 pounds.
Tom learned to fly in a Cessna 152 at Merritt Island Air Service, Merritt Island, FL three years ago. He passed his check ride for his Private license at 40 hours and began flying his KR-2 when he had logged 60 hours. He had checked out in a 172 and a Piper Warrior by that time, and another KR-2 builder in St. Augustine had given him an hour-long ride to allow him to get a feel for the greater sensitivity of the controls ofthe little homebuilt.
"I made the first flight in my airplane and it turned out to be a non-event. It was easy to fly and the only problems I had were a couple of little oil leaks and a higher oil temperature than I wanted to see. I fixed those and haven't had any problems since. I think anyone about to fly a KR-2 for the first time should get a ride in one to see what it's like -- because it is different. It's a good airplane, but it doesn't fly anything like a 152. It's different - and much faster."
Tom began flying the KR-2 with a Sterba 54" x 56" propeller, but that proved to be too much pitch. After having it repitched to 48 inches, he is getting 1,200 to 1,300 fpm of initial climb and a top speed approaching 170 mph. He normally cruises at 150 mph at 75% power. The airplane stalls at just under 40 mph and has no tendency to drop a wing ... "very docile," in Tom's opinion. The only change he has made to the airplane since he began flying it has been the substitution of a MAC servo-driven elevator trim for the stock manually operated system. It works great, he says.
"I love the airplane. I love building and I love flying. I haven't decided what it will be, but I will definitely build another airplane. I've had other hobbies, but none as absorbing as this. I also like the fact that sport aviation seems to be more family oriented than some other things I've done. I'm 37 and it also seems there are younger people here than in some of the interests I've had in the past."
The great thing about homebuilding is that those 500-600 different designs we referred to in the beginning represent almost every conceivable configuration, method of construction, range of performance and cost to build. There's something for everyone ... and the opportunity to be recognized for doing an outstanding job. This was Tom Crawford's first aircraft building project, for example, yet he came away from Sun 'n Fun '98 with the trophy for the Best Auto Engine homebuilt at the fly-in.
All that time spent keeping his Beetle running during his college days had finally paid off!