Calculated Results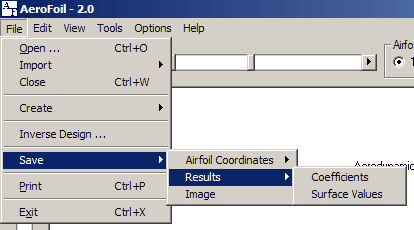 Calculated results may be saved in an ASCII text file which may then be imported into other software applications.
The coefficients option contains the same information as shown in the tabulated data display. If multiple airfoils have been analyzed, all will be included.
The surface values option is similar to the tabulated data. This file will include the surface velocity, pressure coefficient, and the boundary layer thickness (if viscous effects are included) at each point along the airfoil(s) at all angles of attack, as well as all of the information given in the coefficients option. A negative value of surface velocity represents flow which is below the stagnation point and is passing below the bottom of the airfoil.
A partial example is shown below:

NLF(1)-0215F

Angle of Zero Lift: -6.000 Degrees

Aerodynamic Center: x/c= 0.2614  y/c= 0.0287
Pitch Moment: -0.162

Reynolds Number: 3,000,000
          Lift    Pitch    Drag    Lower Surface     Upper Surface
Alpha     Coef   Moment    Coef     Turb    Sep       Turb    Sep
-7.00   -0.142   -0.163   0.0086   0.0097  0.8488    0.5409  1.0000
-6.00    0.000   -0.165   0.0081   0.0110  0.8731    0.5307  1.0000
-5.00    0.150   -0.164   0.0081   0.0126  1.0000    0.5213  1.0000
-4.00    0.261   -0.166   0.0079   0.0145  1.0000    0.5122  1.0000
-3.00    0.372   -0.167   0.0077   0.0170  1.0000    0.5032  1.0000
-2.00    0.483   -0.168   0.0056   0.5977  1.0000    0.4940  0.9998
-1.00    0.592   -0.170   0.0057   0.6060  1.0000    0.4840  0.9991
 0.00    0.701   -0.171   0.0059   0.6124  1.0000    0.4731  0.9984
 1.00    0.810   -0.172   0.0062   0.6177  1.0000    0.4605  0.9977
 2.00    0.918   -0.173   0.0065   0.6223  1.0000    0.4455  0.9968
 3.00    1.025   -0.173   0.0069   0.6264  1.0000    0.4262  0.9958
 4.00    1.131   -0.174   0.0074   0.6303  1.0000    0.3982  0.9946
 5.00    1.235   -0.175   0.0084   0.6339  1.0000    0.3487  0.9929
 6.00    1.330   -0.175   0.0108   0.6373  1.0000    0.2155  0.9888
 7.00    1.420   -0.176   0.0133   0.6407  1.0000    0.1201  0.9837
 8.00    1.507   -0.177   0.0155   0.6440  1.0000    0.0695  0.9781
 9.00    1.591   -0.177   0.0175   0.6472  1.0000    0.0431  0.9723
10.00    1.667   -0.178   0.0195   0.6504  1.0000    0.0278  0.9649
11.00    1.726   -0.179   0.0216   0.6536  1.0000    0.0198  0.9535
12.00    1.713   -0.182   0.0242   0.6569  1.0000    0.0116  0.9238
13.00    1.626   -0.187   0.0272   0.6603  1.0000    0.0058  0.8770
14.00    1.545   -0.191   0.0300   0.6639  1.0000    0.0044  0.8344
15.00    1.456   -0.196   0.0331   0.6676  1.0000    0.0035  0.7922